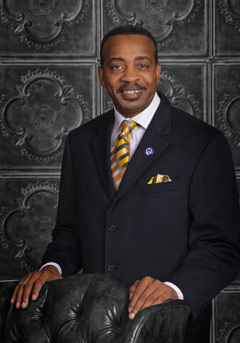 Lewis Johnson
Ward 3
Lewis Johnson is serving his eighth consecutive term as City of Grenada Councilman.  He was first elected to Council in 1988 and has also served as Vice Mayor.
Johnson is a Grenada native and received his scholastic education at Jackson State University and The University of Colorado.  He has served and worked in the public sector for over 34 years, working for county, municipal, state, and federal government agencies.  Johnson retired in 2003 from the State of Mississippi Auditor's Office and the Mississippi Gaming Commission.
Johnson began serving his community at an early age.  At 13 he was actively involved in the Grenada Civil Rights movement, participating in desegregation sit-ins, equal rights demonstrations, and boycotts.  His name is listed in the Mississippi Sovereignty Commission Files.
Councilman Johnson has served on numerous boards and committees including service as President of the Mississippi Black Caucus of Elected Officials, Regional Director and Treasurer of the National League of Cities Black Caucus, life member of the NAACP, and Mason 32nd Degree.  In 2008 he was inducted into the Mississippi Municipal League Hall of Fame.
In May 2011, the Grenada City Council voted unanimously to name its new 1.7 million dollar senior citizen complex the "Lewis Johnson Senior Citizen Complex", in honor of Councilman Johnson.